Many people wonder, how can I dropship on Reddit? Well, today we will be showing you step by step on how we are going to promote.
A brief overview of our campaign process: Choose a few subreddits, analyse and pick the best for our campaign, craft a campaign around the subreddit rules so it has a small(er) chance of being removed.
For this case-study I am going to choose this product www.goo.gl/Fv1vdTF
Part 1: Choosing a Sub-Reddit and analysis
So you have a perfect product, ready to go but can't get any customers. What we need to do first before we can proceed is choose the right sub-reddit. Since this knife can be sold as a survival knife we can target camping/hiking/outdoors subreddits.
I normally use redditlist.com for finding Subreddits but there is a lot of them out there. Here is a search for 'camping' with ALL sub-reddits being included. Safe for work and not safe for work.
http://redditlist.com/search?adultfilter=2&searchterm=camping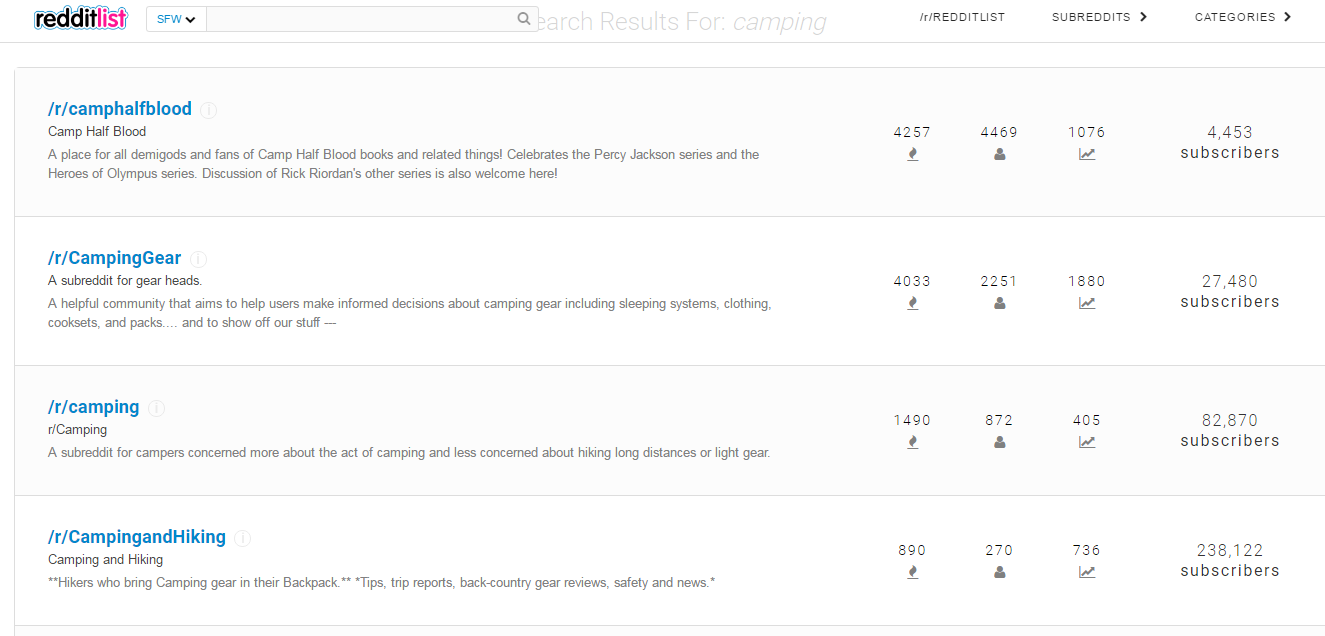 A quick glance at that you can see a few potential sub-reddits, /r/campinggear, /r/camping and /r/campingandhiking .
Hmmm which one to pick? Let's break it down.
Subreddit #1
https://www.reddit.com/r/CampingGear/
Subscriber Count:
27,000 Subscribers.
Description:
A helpful community that aims to help users make informed decisions about camping gear including sleeping systems, clothing, cooksets, and packs…. and to show off our stuff —
Top Post of all time: https://www.reddit.com/r/CampingGear/comments/6hwa6i/protip_when_cleaningdrying_out_your_hydration/?st=j49698p8&sh=64c48bb7
Total votes on top post: 383.
Score: 3/5
Negatives:
Subscriber count is reasonably low. Subreddit is made for advertising which means high competition to find buyers.
Positives:
Top post only have 380~ upvotes. Posts will be easy to rank on the front page for high visibility. Post will not be removed by moderators because as the sub-reddit is made for posting gear.
Low barrier to entry – to get one of the top posts of the day you will only need 20 votes.
Subreddit #2
https://www.reddit.com/r/camping/
Subscriber Count: 83,000
Description:  A subreddit for campers concerned more about the act of camping and less concerned about hiking long distances or light gear.
Top Post of all time: https://www.reddit.com/r/camping/comments/6cn6ex/my_son_contemplates_life_on_his_first_camping_trip/
Total votes on top post : 17,000.
Score: 2/5
Negatives:
Looking at the front page you cannot see anything relating to gear, or reviews for certain gear. While this means low competition it also means a high chance of your post being removed and you being banned from the Subreddit. The campaign must be carefully thought out to prevent deletion.
Positives:
Low competition, with a properly crafted campaign you will be able to reach your target demographic.  Medium subscriber count of 83,000.
Low barrier to entry – a top 3 post of the day may only need 30 votes to be at the top.
Subreddit #3
https://www.reddit.com/r/campingandhiking
Subscriber Count:
238,000 Subscribers
Description:
**Hikers who bring camping gear in their Backpack.** *Tips, trip reports, back-country gear reviews, safety and news.*
Top Post of all time: https://www.reddit.com/r/CampingandHiking/comments/5rlh3m/congressman_jason_chaffetz_r_utah_intending_to
Total votes on top post:
19,000.
Score: 4/5
Negative:
Higher barrier to entry – 100 votes needed to reach a good chunk of the subreddit.
Positive:
Little to no gear submissions already on the subreddit – low competition for buyers.
"Backcountry gear reviews" – reviews of gear are allowed in the subreddit.
Other posts you may be interested in:
Why Reddit is one of the best marketing platforms.
Top Ten mistakes new Redditors make.